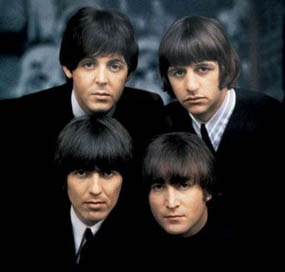 :
Jakarta - Sudah banyak konser kepedulian untuk bencana alam di Indonesia. The Beatles pun turut berkontribusi untuk meringankan para korban bencana Merapi, Wasior dan Mentawai.



Tentunya bukan band The Beatles asli, namun para penggemarnya yang tergabung dalam Beatlemania. Mereka yang konser adalah band-band tribute The Beatles.



Konser peduli Merapi, Wasior, dan Mentawai kali ini digagas oleh Depok Beatles Comunity (DBC) di Old House Cafe, Margo City, Depok, Jawa Barat, Minggu (21/11/2010). Konser tersebut diadakan dari pukul 15.00 WIB sampai selesai.



Ketua DBC Bambang Pupung menceritakan awal tercetusnya acara konser yang diberi nama 'Depok Beatles Community Care and Share Fund Raising and Share for Mentawai, Wasior, Merapi' itu. Hanya dalam waktu 2 minggu, DBC harus mengumpulkan tribute band dari Depok dan luar depok.



"Ini untuk kekompakan kita di Kota Depok ini. Kita peduli dengana bencana alam. Lalu kita juga akan menggalang sumbangan di acara ini. Semua band main begitu saja, mereka tidak dibayar," kata Pupung, sapaan akrab Bambang.



Sejumlah band tampil di panggung sederhana konser peduli Konser peduli Merapi, Wasior, dan Mentawai itu. Mereka datang dari berbagai daerah, di antaranya dari Tangerang, Jakarta, dan Pamulang.



"Salah satunya Plastic Soul, dia tribute band Beatles terbaik kedua. Lalu ada juga orang-orang lama yang tergabung dalam tribute band The Beatles," lanjutnya.



Band-band lain yang akan tampil di konser tersebut adalah Janur, Denny Jagger and Friend, dan The Oldman. "Nikmat sekali kita dengar lagu-lagu Fab Four, sambil kita juga menyisihkan uang kita berapa pun," jelas Pupung.



Lanjut Pupung, diharapkan Beatles Community dari daerah lain di Indonesia bisa juga mengadakan konser amal seperti ini. "Yah inilah yang kita bisa buat selain mendoakan. Mari club Beatles dan pencinta Beatles lain, adakan malam penggalangan dana. Pasti seru dan bisa menolong saudara-saudara kita," imbuhnya.