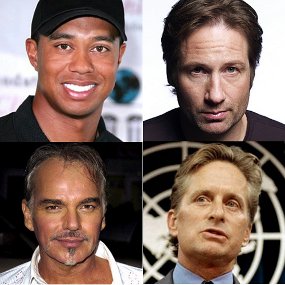 :
Jakarta
Dunia selebriti sangat akrab dengan gaya hidup bebas. Seringnya bergonta-ganti pasangan membuat para selebriti ini kecanduan seks.
Berikut ini daftar para pesohor yang kecanduan seks dimulai dari urutan ke-10:
10. Billy Bob Thornton
Aktor asal Amerika ini dilaporkan menjalani perawatan pada 2002 karena kecanduan seks. Hal tersebut dilakukan Billy Bob untuk menyelamatkan pernikahannya dengan aktris Angelina Jolie. Namun ia mengacaukan terapi seks tersebut dan tidak pernah sembuh. Akhirnya Jolie dan Billy memutuskan untuk bercerai pada 2003.
9. Eric Benet
Berselingkuh dari sang istri berkali-kali, sudah cukup membuktikan kalau penyanyi Eric Benet mengalami kecanduan seks. Apalagi kalau yang diselingkuhi adalah artis secantik Halle Berry. Pelantun 'I Wanna Be Loved' itu pun sempat mengikuti konseling untuk menyelamatkan pernikahannya dengan Berry. Namun akhirnya mereka resmi berpisah pada 2005.
8. Kari Ann Peniche
Kari Ann Peniche adalah bintang majalah Playboy edisi November 2004. Pada 2009, Peniche membuat gempar dengan beredarnya video telanjang dirinya bersama pasangan yang telah menikah. Namun dalam video tersebut tidak terdapat aktivitas seksual. Pada November 2009, Miss Oregon Teen USA 2002 itu tampil di acara TV 'Sex Rehab with Dr. Drew' sebagai pasien penderita kecanduan seks. Ia mengaku mempunyai ratusan pasangan tapi tidak pernah bisa terikat secara emosional dengan mereka.
7. Rob Lowe
Pada 1988 aktor Rob Lowe terlibat skandal video seks yang dilakukannya bersama dengan dua orang wanita. Salah satu wanita tersebut ternyata diketahui masih berumur 16 tahun. Aktor berumur 46 tahun itu kembali membuat skandal saat video seksnya bersama model asal Amerika Serikat bernama Jennifer tersebar luas. Video tersebut menjadi video seks selebriti pertama yang dikomersilkan. Lowe kemudian masuk ke panti rehabilitasi untuk kecanduan alkohol dan seks.
6. Russel Brand
Komedian asal Inggris, Russel Brand tanpa malu mengakui kalau dirinya kecanduan seks. Pengakuan tersebut dituangkan Brand dalam buku autobiografinya yang berjudul 'My Book Wook'. Suami Katy Perry itu mengatakan kalau dirinya tidak bisa berhenti bercinta setiap hari.
5. John F. Kennedy
Presiden ke-35 Amerika Serikat, John F. Kennedy disebut-sebut memiliki kecanduan seks. Ia pernah mengakui hal tersebut kepada Perdana Menteri Inggris saat itu, Harold Macmillan. "Jika saya tidak bersama wanita dalam tiga hari, saya pasti mengalami sakit kepala yang amat sangat," ujar JFK. Pria kelahiran 29 Mei 1917 itu dikabarkan memiliki hubungan dengan sejumlah wanita. Mereka adalah Jayne Mansfield, Angie Dickinson, Mary Pinchot Meyer, Judith Campbell Exner, Inga Arvad, Mimi Fahnestock, Marilyn Monroe, Blaze Starr dan Pamela Turnure.
4. Michael Douglas
Pada tahun 1990, aktor Michael Douglas menggambarkan dirinya sebagai seorang pecandu seks. Saat itu, Douglas muda yang terkenal dan banyak uang, banyak menghabiskan waktunya dengan para wanita. Tetapi bintang 'Wonder Boys' itu mengakhiri petualangan cintanya saat menikahi aktris Catherine Zeta-Jones.


3. David Duchovny
Aktor David Duchovny mengaku kalau dirinya seorang pecandu seks berat. Aktor yang memenangi Golden Globe Awards untuk perannya sebagai agen FBI di serial 'TV The-X Files' itu pun masuk panti rehabilitasi. Pada 2008, pria berusia 50 tahun itu juga sempat membintangi acara TV tentang pecandu seks.
2. Tiger Woods
Ini dia skandal seks yang paling menggemparkan. Banyak wanita yang mengaku telah berhubungan seks dengan pegolf asal Amerika Serikat itu saat Woods masih terikat perkawinan. Satu per satu, wanita tersebut muncul di media dan mengungkapkan kalau Woods adalah seorang pecandu seks berat. Pegolf berusia 34 tahun itu pun memutuskan untuk menjalani perawatan di panti rehabilitasi.


1. Catherine The Great
Catherine II atau yang dikenal sebagai Catherine The Great adalah kaisar Rusia pada periode 9 Juli 1762 sampai 17 November 1796. Ia dikenal memiliki hasrat seksual yang amat tinggi. Maka tak heran saat itu Catherine dikabarkan memiliki banyak pasangan.