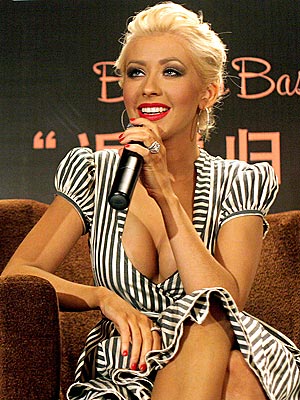 :
Jakarta
Penyanyi Christina Aguilera mengajukan gugatan cerai pada suaminya Jordan Bratman. Kabarnya perceraian itu terjadi karena Christina naksir mantan pacar lesbian Lindsay Lohan, DJ Sam.
Hubungan antara Christina dan Samantha Ronson itu diungkap oleh teman-teman keduanya. Mereka pun disebut-sebut sudah menjadi sepasang kekasih.
Dilansir The Sun, Kamis (21/10/2010), pada September lalu, seorang sumber melihat betapa dekatnya Christina dan Sam di sebuah pesta yang diadakan Nicole Richie. Saat itu Christina sudah pisah ranjang dari suaminya, namun keretakan rumah tangganya belum terungkap.
"Mereka memang sudah dekat sejak lama dan kini orang-orang mulai mengira mereka sebagai pasangan," ujar sumber.
Kabar Christina menyukai sesama jenis semakin menguat setelah pekan lalu seorang perempuan mengaku didekati oleh pelantun 'I Turn To You' itu. Perempuan tersebut ketika itu tengah hang out di sebuah bar di Los Angeles, Amerika Serikat.
"Aku bertemu Christina di kamar mandi dan dia bilang padaku kalau dia suka bermain dengan perempuan. Aku pun tidak menanggapinya karena saat itu menurutku situasinya sangat aneh buatku," urai si perempuan.
Sebelumnya dalam sebuah wawancara perempuan 29 tahun itu pernah mengakui kalau dirinya memang memiliki kecenderungan lesbian. "Faktanya memang terkadang aku tertarik pada perempuan. Aku menyukai kefemininan dan kecantikan mereka," ujarnya kala itu.
Masih dalam wawancara tersebut, Christina juga mengatakan kalau suaminya mengetahui ketertarikannya pada perempuan. Ia pun senang bisa bersikap terbuka mengenai orientasi seksualnya.